I had the opportunity to go to France this year for the 28e Tournoi Mondial Basket Tourcoing with the Toronto Basketball Academy team. This is my second trip to France for this tournament with TBA as the media person. The team was representing Canada at this tournament.
Having the opportunity of being there as the team media person (dealing with photography, video, and social media), it was a great experience and demanding at the same time. What I had to deal with was making sure we had game tape for every game we played, pictures taken for every game, pictures, and social media footage of everything else during our stay there, edit as much as I can there, and get it to those who ask for the footage (everyone kept on getting at me for pictures of themselves haha). 
The team left on April 10th with the first few days in Tourcoing being for practice sessions, media day, exhibition game vs team USA, and the opening ceremony.  The official tournament games started on April 15th and ended on April 17th, an annual basketball tournament that takes place during the Easter weekend.
On April 12th was the media day for both team Canada (TBA) and USA prior to the exhibition game later that evening. The media day was for the fans to come out and see both team Canada and USA, just to take pictures with the players and coaches and ask any questions. Later that evening there was the exhibition game between the two teams, and that gym was packed. The amount of people that showed up for both events was just amazing. Just like Canada, basketball is a growing sport in France.
"We were so happy to welcome TBA here in Tourcoing one more year! The recognition of this academy as one of the best in the American continent and knowing the dedication of its founder, made us want them to compete in our tournament. We share the same values of hard work and basketball, and we really wanted to confirm our partnership. They were loved by french fans, it's always good to have alternatives from USA that is being idolized by a lot of people here. We wish to see them coming back with players growing !" Sophie Taraneh Shali – President Tournoi Mondial Basket
The weekend did not go so well for the team as they lost close games, except for against The Kings of Congo. Overall for these young student athletes; some of who are still in high school and some who are in post-secondary, it was a learning experience on how to play against pro teams, players who are older than them, and just more of a team bondage.
"It was an honour for me to go back for a 2nd year to play in the Tournoi Mondial. With me Ahmed Jace and Hassan being the only ones returning and with an even younger team we had to really be the leaders and voice of the team. Going up against men who get paid to play the sport we love and us only being in our first years of college and some still in high school was a big important that couldn't be missed out. It really tested our athlete abilities of endurance, athleticism and speed. Going to see Paris was a big thing as well because it's a historical city with beautiful monuments." Liban Mohamed – Seneca Sting Men's Basketball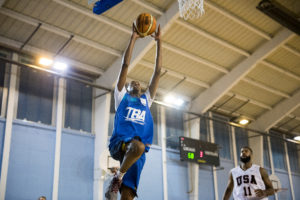 This was my second time at this tournament, and it felt even better than last year. Photographing the games at the arena was just a different feeling, a good one though. We had packed games every time which was completely different from what I am used to.
Overall this trip was great for the team, getting to play in an international tournament, getting to meet new people, exploring Paris for the first time for most of us, and most importantly, creating memories that last a lifetime with your ball family. I look forward to returning next year.